Sewer drainage explainad
How a septic tank works
Septic tanks have two compartments. When waste flows into the tank, solids remain in the first container. The liquid then flows into the second area to be treated before being drained into the drainage field.
Septic tanks, or sewage treatment plants are typically used when properties don't have direct access to sewer drainage. Instead, a drainage system is put in place to treat any waste and dispose of the treated liquid.
If your current septic tank releases treated water into a ditch or another watercourse – rather than a proper drainage field – contact Hampshire Drainage immediately. This system is now outdated and illegal.
We can help provide an inspection of the current system, as well as providing a new septic tank installation if needed.
Enquire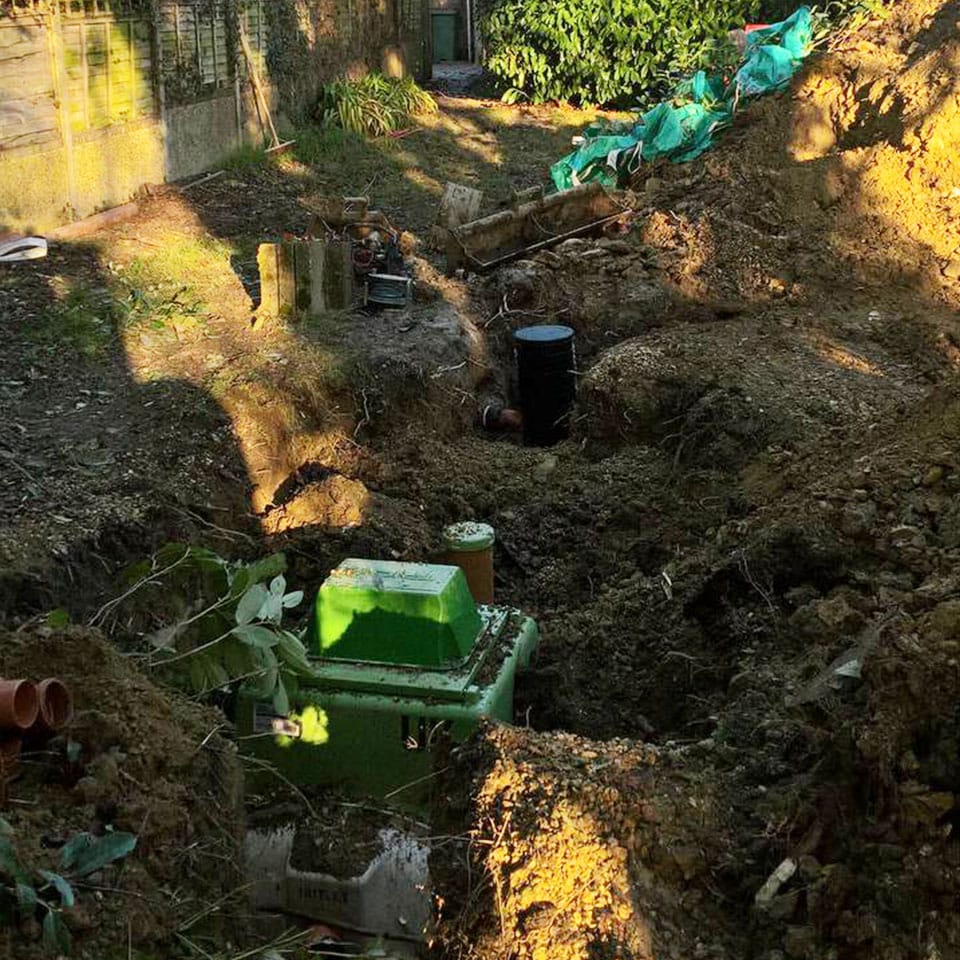 Septic tank problems in Swaythling
Septic tank problems can occur due to poor installation or maintenance. The three largest problems are as follows:
1. Cracks or damage to the tank
This can occur when there is too much pressure on the external walls, either from plant roots in the surrounding ground or vehicles being driven above the tank itself.
2. Blockage and build-up
Solid waste can build-up within the septic tank over time. This can cause blockages that leave a much narrower space for waste to flow through, dramatically decreasing the efficiency of the system. In extreme cases, large build-up inside the pipes can even lead to filters splitting or the pipe lining breaking.
3. Wear and tear
Like other home maintenance systems, septic tanks are susceptible to wear and tear as they age or if they are not correctly maintained.
To avoid these issues, we recommend scheduling an annual septic tank inspection to avoid costly damage in the long run. Usually, if a septic tank fails, and cannot be repaired, a sewage treatment plant installation will be used to replace the current system.
Need our help?
Contact our experts today
Our Swaythling based team at Hampshire Drainage can provide septic tank surveys to help identify problems within the system.
From this, we can offer septic tank installation, maintenance, and repairs.
All our engineers are professional, experienced, and compliant with current installation regulations.
Enquire now
Contact Hampshire Drainage
Check our other drainage services in Swaythling
Septic tank problems not quite right?